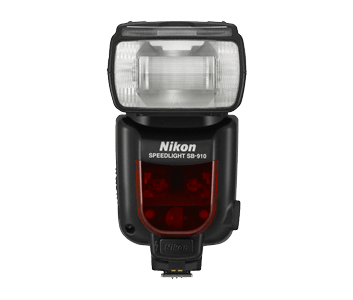 Nikon SB910
Rs.30000/-.
Nikon Speedlight SB-910 Major Features
1. A refined user interface for smoother operation
Users can now quickly access custom settings using the new MENU button. In addition, the graphical user interface (GUI) has been improved to offer simpler application of settings for all operations.
2. Three illumination patterns for use according to the scene
The SB-910 offers selection from three illumination patterns (Standard, Even, Center-weighted), allowing users to choose the pattern most appropriate for the scene. Illumination precision has also been increased.
3. Automatic detection of hard color filters attached to the front of the flash head
The SB-910 supports hard color filters because they are more durable, stand up better to the heat generated by the flash head, and are easier to use than the gel color filters supported by its predecessor. One incandescent filter and one fluorescent filter are supplied with the SB-910.


Additional SB-910 features and functions
Guide number of 34/111.5 (at ISO 100, m/ft., 35-mm zoom head position, in FX format, standard illumination pattern) for high flash output volume
Fully compatible with the Nikon Creative Lighting System
Power zoom function with which the SB-910 automatically adjusts the zoom head position to match lens focal length
FX format, Standard illumination pattern: 17–200 mm (14 mm with the built-in wide panel in place)
DX format, Standard illumination pattern: 12–200 mm (10 mm with the built-in wide panel in place)
Automatic switching of zoom head position with detection of the camera's image area setting—FX or DX format—for optimal angle of flash coverage
Supplied Accessories with Nikon Speedlight SB910
Nikon

Speedlight

SB910

Speedlight

Stand AS-21
Nikon Diffusion Dome

SW-13H

Fluorescent Filter

Incandescent Filter

Soft Case SS-910
Technical Specifications

Nikon

Speedlight

SB-900

Electronic Construction

Automatic Insulated Gate Bipolar Transistor (

IGBT

) and series circuitry

Flash Exposure Control

Camera's sync modes: slow sync, red-eye reduction slow sync, front-curtain sync, rear-curtain sync, rear-curtain slow sync Photography functions: auto FP high-speed sync,

FV

lock, red-eye reduction

Guide Number

34/111.5 (ISO 100, m/ft), 48/157.5 (ISO 200, m/ft)

Flash Coverage

0.6 m to 20 m (2 ft to 66 ft) (varies depending on camera's image area setting, illumination pattern, ISO sensitivity, zoom head position, and lens aperture in use)

Recycling Time

Approx

. 2.3 sec. with

NiMH

or alkaline batteries, 4.0 s with lithium batteries

Weight (without battery, memory card or body cap)

Approx

. 510 g (18 oz) (with four 1.5 V

LR6

(AA-size) alkaline batteries)

Approx

. 420 g (14.8 oz) (

Speedlight

only)

Other Features

ISO sensitivity manual setting, redisplay of underexposure amount from insufficient flash output in

i-TTL

mode, reset to the default settings, key lock, thermal cut-out, firmware update

Dimensions

Approx

. 78.5 x 145 x 113 mm (3.1 x 5.7 x 4.4 in.)

Power Requirements

Use four AA-size batteries of the same brand from any of the following types: 1.5 V

LR6

(AA-size) alkaline batteries 1.5 V

FR6

(AA-size) lithium batteries 1.2 V

HR6

(AA-size) rechargeable Ni-MH batteries